Residential and commercial roofing is a service provided by many companies in the Atlanta, Georgia area. With weather conditions ranging from hot summers to cold, wet winters, having a reliable and high-quality roof over your head is essential for keeping the home or business safe and comfortable all year round. From repairs to full replacements, there are a range of services available for all types of roofs.
As the roof is a very sensitive part of the house, you need experienced and qualified roofers to take on any Georgia roofing projects, as such professionals will know how to correctly assess the condition of your roof and provide the best solution for it.
The lifespan of a typical residential roof in Georgia can vary, depending on the quality of material and workmanship used when installing it. Generally speaking, a properly installed asphalt shingle or metal roof can last a long time. If regular maintenance is done, such as checking and cleaning, this can further extend its life expectancy. Of course, any major storm damage or other issues need to be addressed immediately by an experienced professional to prevent further problems down the line.
No matter what kind of roof you have in Atlanta Georgia, finding a reliable contractor who will help you maintain it over time is an essential part of keeping it in good condition. Having an experienced professional on your side is the best way to guarantee that your roof stays in great shape for years to come, whether you need a new roof or just repairs and upkeep. When it comes to roof maintenance, 1761 Renovations offers a comprehensive range of services, including waterproofing, roof repair, new roof installation, and more.
If your home or business needs a new roof installation or repair, then don't hesitate to contact 1761 Renovations, a trusted and reliable local contractor who specializes in Roofing Atlanta Georgia. With the right help on hand, you can rest assured that your property will be properly protected against wind, rain, hail and other potential damages caused by bad weather conditions. Furthermore, when you have an expert helping you with your roofing needs, you can save time and money.
1761 Renovations specializes in all types of Georgia roofing services from residential to commercial. Our experienced team has been serving the Atlanta area for over two decades and they continue to provide excellent service at competitive prices. We are fully insured and licensed in Georgia, so you can be sure that your property is getting the best possible protection. Additionally, we offer warranties on their products and services which guarantee customer satisfaction.
It might be time to think about having your roof inspected if you see wet stains on the ceiling or hear a tree limb fall during a storm. Flooding risks can arise from both interior and outside sources. Roofs are no exception; if they have any leaks, all those unsettling emotions might soon become actual scenarios if suitable precautions aren't taken to guard against these threats. 1761 Renovations can help you with an inspection and even offer repair services if needed.
Installation, upkeep, repairs, replacements, and other services are among the many that we offer. With many experienced and reliable contractors to choose from in the state of Georgia it is important to find the right one for your particular roofing needs. There are many different types of services available, ranging from asphalt shingle and tile installation to flat membrane applications and metal installations. 1761 Renovations can also assist with inspections and repairs after a storm to ensure the integrity of the structure is preserved.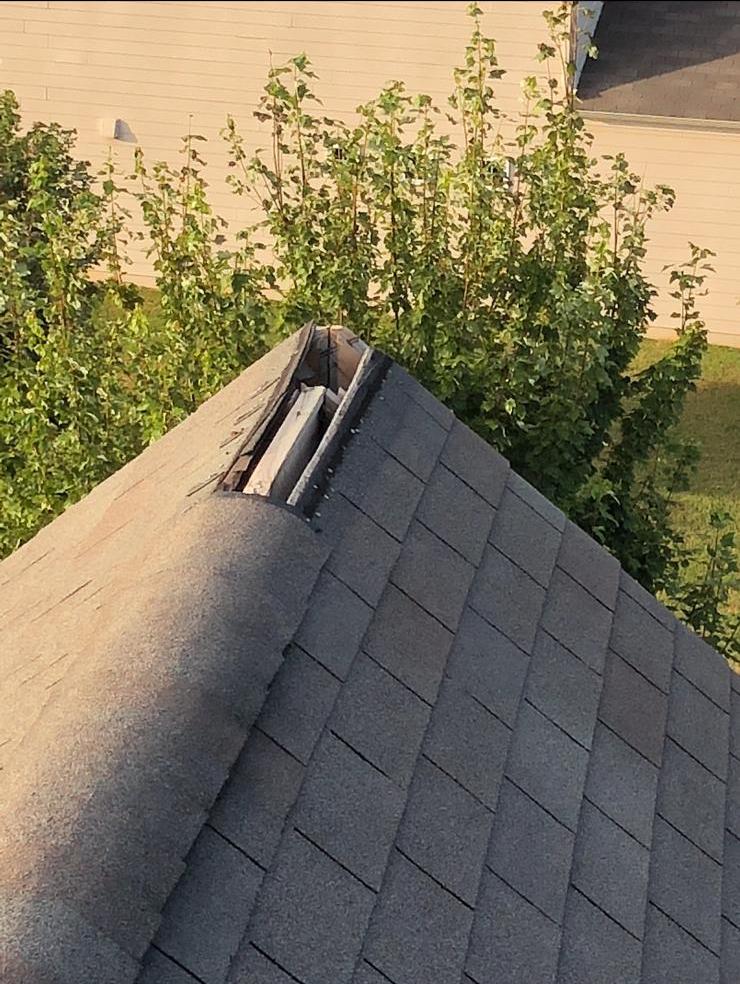 No matter what type of roofing Atlanta Georgia needs, there is sure to be a contractor who can provide the necessary service. It is important to research each potential roofer thoroughly and make sure they are properly licensed and insured before agreeing to any work. Reputable companies like us, will have warranty options on their services as well which can help protect the customer in case of any problems down the line.
For our Roofing Georgia projects, we will work with customers to find the best roofing system for their needs, whether it is traditional asphalt shingle roofing or specialty materials like metal roofing. With a quality installation and regular maintenance, homeowners can enjoy a beautiful and long lasting roof that will protect against the elements for many years. 1761 Renovations roofers are experienced and knowledgeable, making sure that our customers get the best possible service. Whether you need a new roof installed, or just need repairs to an existing one, we are the Georgia Roofing Company you should trust. We can provide quality workmanship and professional advice to make sure your roof is in top condition. For all of your roofing needs in Atlanta, Georgia, don't accept anything less than the best. Let the experts at 1761 Renovations help you today!
With experienced and knowledgeable professionals on your side, you can be sure to get the best results for your roofing needs. Keep your home and place of business protected always. Make sure you have a reliable and durable roof to keep it safe from any kind of weather condition in Atlanta Georgia. Contact 1761 Renovations today and take advantage of our expertise! And when you are ready, we can start working on your project and provide you with a long-lasting, high-quality roof for your home.
When is it time for a new roof installation?
So when do you replace your roof? The health of any structure impacts the integrity and safety for all other components in a building. A bad roof can lead to expensive repairs like flooding or structural damage that may result from windblown debris penetration into open seams between shingles causing problems with water intrusion. So, replacing a roof usually becomes necessary when the primary protective layer of shingles are worn out or damaged.
Roofs in Atlanta Georgia typically last between 15 to 25 years depending on the quality and how well they have been maintained. It is important to hire an experienced roofer who is familiar with local codes and requirements in order to ensure your roof installation is performed safely and correctly.
There are warning signals you may look for before contacting a professional if you're unsure when to replace a roof. The following are some signs that you could require the installation of a new roof.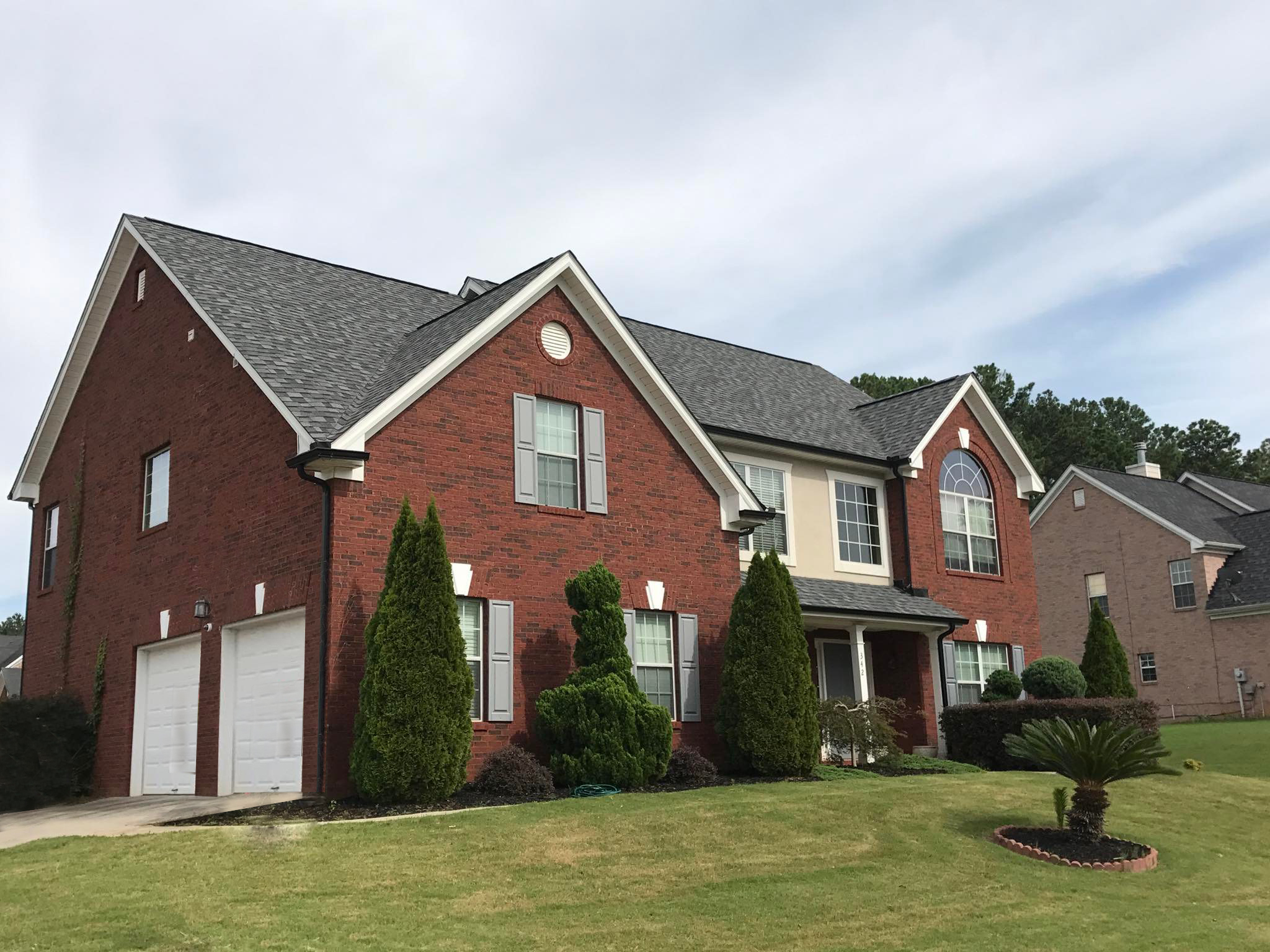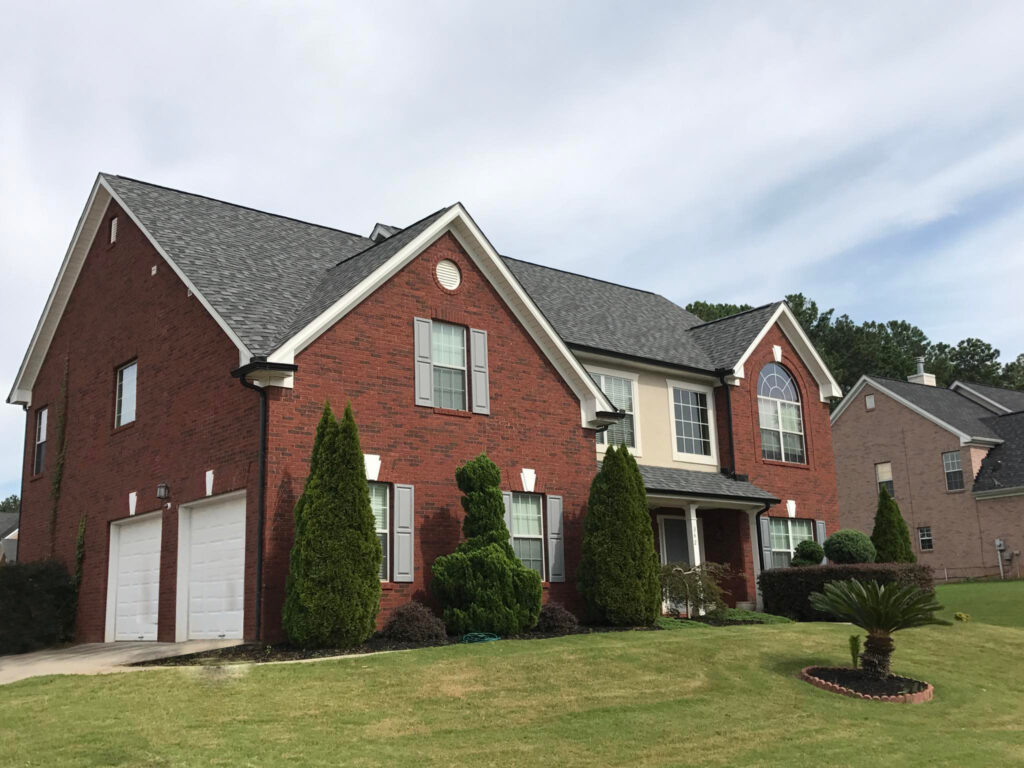 The age of the roof.
The life span of your roof is important when you're deciding whether or not to replace it. If the material used for construction was asphalt shingles, they can last 20 years on average before needing repair; however, this will vary depending upon location and other factors such as weather patterns in which area where it's located. Metal roofs are a little bit more durable than tile, lasting up to 50 years when well maintained.
If it's been more than 20 or 50 years for you asphalt or metal roof, you should have a professional assess the roof and give you an opinion on whether or not replacement is necessary.
Cracked/broken shingles.
When the shingles on your roof are in good shape, they lay flat against it. However if you need to replace them due to wear and tear or another reason then these old roofs will show every crack that has formed over time as well as any curl caused by humidity during rainstorms because water penetrates deep into these materials easily causing expansion/contraction which leads us back towards more cracks!
Water damage caused by leaks.
The roof of your house is one place that you can never be too careful about. If there are water stains on the ceiling and walls, paint peeling away from them or even damp rafters then chances could exist for mold growth in some places which will only make things worse!
Examining the integrity of your roof is also necessary to prevent structural damage, rot, and other problems from being caused by leaks and water damage within your home. If you are unsure whether a water-related problem necessitates replacing your entire roof, be sure to ask a local roofing expert for guidance.
Growth of moss and mold.
There are few things more concerning than water damage. The appearance of mold and fungus on your roof may not be an immediate sign that there's a problem, but it'll only take one small crack for all those leaks to start happening!
On the shadowy parts of the roof, moss, mold, and fungi can develop and trap moisture that leads to damage. Even while there may not yet be any indications of leaks in the attic, the emergence of this unwelcome vegetation on your shingles may be a hint of impending issues.
When any homeowner notices any of these signs, it's best to call 1761 Renovations professionals right away. We can even catch underlying problems that could have gone unnoticed until it was too late! Whether you need a full replacement or just simple repairs, our team is sure to help your roof regain its health!
When you are ready to replace your roof, it is important to consider the climate in Georgia. Atlanta receives an adequate amount of rain every year and can experience extreme heat during the summer months. This means that roofs must be designed and constructed with materials that can stand up to these conditions while providing a long-lasting, durable roofing system. Roofers in Atlanta Georgia should be familiar with the local climate and will know what materials and construction techniques are best suited for your home or business.
Can I replace my roof myself?
The truth is that with the aid of numerous DIY websites, anyone may fix their own roof. Anyone who wants to do DIY projects can find a lot of information online. All you need are some tools and an idea of what type of project you are working on, then bam! You can replace that old shingle with something new looking better than ever before.
However, you should be asking yourself whether or not you want to and should do it yourself. The DIY websites typically display very simple roofs, so if you are handy and adhere to all safety precautions, you might be able to roof your home yourself. But it's not as easy as it might seem. Please don't attempt it yourself if your roof is steep or has unique flashing concerns.
In general, it is not advised for a homeowner to climb onto their roof, much less attempt to fix or replace it. You risk damaging your roof and, more significantly, harming yourself if you don't know what you're doing. That is why it's important to have a reliable and experienced roofer in Atlanta Georgia who can help you with all of your roofing needs.
1761 Renovations Atlanta Roofers offer quality workmanship, certified materials, and affordable prices that make them an ideal choice for any homeowner looking for professional services. We will provide you with the knowledge and experience needed to diagnose and repair any roofing problem, including leaks, missing shingles, damaged flashing, or other issues. We will also work with you to create the perfect design for your home's roof that will best match its style and fit in with your budget.
Whether you need a new roof installation, roof repairs, or maintenance, 1761 Renovations Georgia Roofers can help. We offer services for all types of roofs, including asphalt shingles, metal roofing, tiles, wood shakes, and much more. Our experienced crew will work with you to find the perfect solution that meets both your needs and your budget.
When it comes to anything roofing, quality is a priority. All of our roofing projects are completed to the highest standards and come with a guarantee of quality. We are also dedicated to providing superior customer service and will always be available to answer any questions or concerns you may have. Whether you're looking for residential or commercial roofing, 1761 Renovations Georgia Roofers has the expertise to get the job done right. From simple repairs to complete replacements, they provide top-notch service that you can trust.
How long does a roof last in Georgia?
When it comes to how long does a roof last in Georgia? The answer depends on several factors, such as the quality of materials used and weather conditions. Generally, a good-quality asphalt shingle roof with proper maintenance and repairs can last between 15 and 20 years before needing a full replacement. Other types of roofs such as metal, tile, and slate can last even longer.
If you live in the Atlanta area and are looking for a reliable roofing contractor to maintain or replace your roof, it is important to choose one that specializes in Georgia roofing with experience and expertise in the local climate. A qualified professional should be able to inspect your roof, identify any potential problems and recommend the best solution for your specific needs. By taking the time to research different roofing contractors in Atlanta Georgia and hiring one with a proven track record of success, you can guarantee that your roof will receive the right care and survive as long as possible.
Most importantly, roofs must be regularly inspected to check for signs of wear and tear, damage from storms or other inclement weather, and other potential issues. Roofs in Georgia typically last between 12-20 years with regular maintenance but can last longer depending on the type of roofing materials used. By having your roof inspected annually, any necessary repairs can be made quickly to ensure that it is functioning at its best and lasts as long as possible.
With proper care and maintenance, a quality roof installed by an experienced Atlanta Georgia roofing contractor can easily provide decades of reliable service all the while shielding the house from the weather. Researching different contractors in the area to choose one with experience working with local weather conditions is essential to getting the most out of your investment. Investing in quality materials and professional installation will ensure that your roofing project in Atlanta Georgia provides the highest level of protection for years to come.
At 1761 Renovations, we understand the importance of using quality materials and expert craftsmanship when it comes to roofing projects. We specialize in all types of roofing applications in the Atlanta area and have the experience necessary to guarantee a weather-resistant installation. With our team on your side, you can rest assured knowing that your roof will last as long as possible with minimal maintenance required. Contact us today for more information about how we can help you get the most out of your roofing project in Georgia!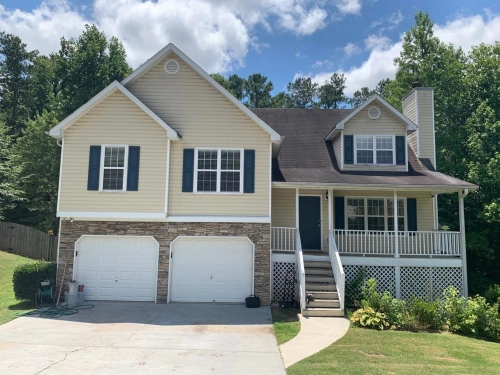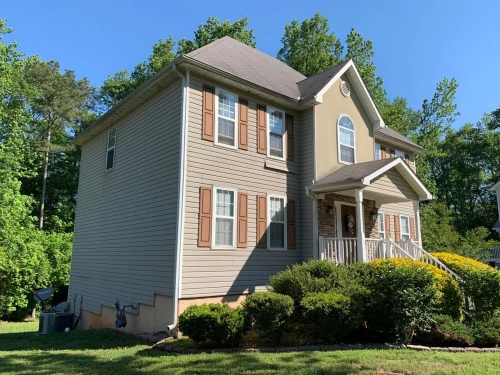 Should You Repair, Patch, or Replace Your Roof?
Homes without roofs risk being damaged by rain and snow, while also allowing sun rays to cause interior damage. As an essential part of your home's structure that helps protect you from these elements, it is important for all buildings – residential or commercial-to have them installed properly so they last longer than just one season!         Additionally, if the roof is damaged, you may experience leaks, pest infestations, mold, mildew, greater heating and cooling costs, and even difficulties with resale.
Thankfully, roofs are made to survive for a very long time. But what should you do if your roof sustains damage from unforeseen catastrophes or regular wear and tear? If you don't have the necessary roofing knowledge, it might be impossible to determine whether the roof needs to be repaired or replaced.
The secret to limiting the short- and long-term expenditures associated with any home modification is to make wise judgments. This is especially true for major, complicated projects like roof replacement. Before choosing a contractor or shingle manufacturer in this scenario, you should make some of the most crucial selections.
The initial choice is whether to just repair leaks and damaged regions or if partial or full reroofing is necessary. If you opt for the latter, you must also determine whether to cover or replace your current roof. Either way, there are financial repercussions.
Now, to simplify the decision-making process, we'll break down the process of roof repair and replacement, so it's easy for you to identify when and why you should repair or replace your roof.
What's Involved in Roof Repair?
A repair may be sufficient when your roof has minimal or moderate deterioration. An older system's integrity can be recovered by home repair work, which may even lengthen its lifespan.
Roof repair is focusing your efforts on a single, small area of your roof as opposed to ripping the entire roof off to replace it. The repair process may involve filling in small gaps and holes as well as replacing shingles and other components that are either damaged or missing, depending on the kind of damage you're dealing with. Of course, before fixing a roofing issue, you or a skilled contractor must first identify and locate it.
A Georgia roofing contractor like 1761 Renovations will assess the current condition of your roof, examine the interior damage and moisture accumulation, then repair the damaged areas. Common repairs include patching torn or missing shingles, sealing punctures from nails or screws, replacing rotting wood, and reinforcing support structures.
What's Involved in Roof Replacement?
When your roof is severely damaged, beyond repair, or when you want to upgrade your system and gain more protection from the elements, it's time to consider a replacement. In order to install the new roof during this home improvement project, you must first remove everything to expose the deck. Sheathing, rafters, and truss repairs may also be necessary.
Replacing a roof can be disruptive as it requires the removal of existing materials, preparing the structure for new products, and installation of new components. Your Georgia roofing contractor will be able to guide you on what materials are best for your home and budget.
Whether you choose durable asphalt shingles, wooden shakes, or metal roofing, 1761 Renovations Georgia roofers are experts in providing top-quality service and dependable craftsmanship. We can also help you navigate the insurance paperwork process and ensure that your roof replacement is done by the highest standards.
If you live in Atlanta, Georgia, and need to assess the condition of your roof, it's important to hire a professional who knows Georgia roofing inside and out. There are various residential roofing options such as shingle roofing, metal roofs, flat roofs, and more. A professional roofing contractor in Atlanta, Georgia can help you decide which type of roof is best suited for your home and guide you through the roofing process.
Roof Replacement vs. Re-Roofing
Many people don't know the difference between a total roof replacement and re-roofing. Although both projects involve putting new shingles on your roof, they are entirely different services.
The majority of the time, a complete roof replacement is necessary for any severe roof damage, including mold development, large gaps, missing or damp shingles, serious leaks, or leaks after heavy rains. Your roof might need to be replaced if it just has a single layer of shingles and also has minimal damage or leaks.
Re-roofing is the easiest and least expensive approach to improve the appearance of a roof when it comes to roofing jobs. It doesn't require a significant amount of time, work, or resources, unlike a roof replacement. That's because you won't need to take apart any of the roof's components for this home renovation project. If you can match the old with the new, then you merely need to apply the new roofing material or shingle overlay on top of the old, worn ones.
However, since you are only covering up the damages and not replacing them with a new roofing system like an entire replacement job would do; re-roofing doesn't last as long. It only offers temporary relief from leaks which can be extremely costly. Plus, you'll still need to take care of any underlying roofing issues like rotten boards or warped shingles that might be the cause of your roof's problems.
If you're in the Atlanta, Georgia area and decide to pursue a re-roofing job for your home, then it helps to know what roofers are available in the area. There are various types of roofers available in Georgia, ranging from certified contractors to small local repairmen. It's important to make sure you hire a professional that is qualified and insured so that you can be assured your project will be done right the first time around.
What new homeowners should know about roofs.
Being a homeowner entails the enormous responsibility of safeguarding your property investment. As a first-time homeowner, you'll discover how homes function, from the plumbing to the roof and HVAC system. One of your home's most crucial components is its roof, which requires effective maintenance.
These are some points new homeowners ought to be aware of regarding roofs in order to comprehend the fundamentals of roof upkeep and the significance of contacting a qualified roofer for repairs.
Arrange for a yearly roof inspection.
The secret to avoiding significant, expensive repairs is to plan preventative maintenance. Your roof should be inspected annually by a qualified roofer to find any trouble spots and fix them before they worsen. Additionally, doing this will help your roof last longer.
In Atlanta, Georgia, the climate and weather can take their toll on roofs over time. It is essential to understand what type of roof you have and how often it must receive maintenance checks. Different materials require different levels of attention, such as asphalt shingles, wood shakes, metal roofs, and tile.
For instance, asphalt shingles are a popular choice for Atlanta homeowners due to their affordability and durability. To keep the roof in good condition, it is important to perform regular maintenance on it as well as inspect it for damage after storms or long periods of strong winds and rain. 1761 Renovations specialists can also recommend the best type of asphalt shingle that will give your home the most protection.
Eventually, your roof will need to be replaced.
Although the average roof needs to be rebuilt every few decades, your property may last for millennia. Depending on the type of roofing material used and how well it has been cared for, different types of roofs have different life spans—some need to be replaced after 15 years, while others can last for 50 years or longer.
Although replacing a roof is a substantial expense, you could have to do so more than once in your lifetime. Age is an important factor to consider when purchasing a home, as old houses might need more repairs. You should ask the previous owners how old the roof is, if there have been any repairs, and also ask about any warranties that come with the purchase of your property!
Keep your roof free of debris, algae, and moss.
In order to keep your roof healthy and prevent any possible damage, it is important to regularly clear it of debris such as leaves, twigs, needles, etc. We advise that you wait until after the storm has passed and the roof is dry before beginning this process. If you are not confident or comfortable being on your roof, we recommend hiring a professional instead.
Snow removal is also an important part of roof upkeep. Heavy snow can weaken your roof's structure, so it's important to get rid of excess snow buildup as soon as possible. If you're unable to do this yourself, consider hiring a professional roofing company in Atlanta Georgia to take care of it quickly and safely.
These can cause damage to the shingles and create a leaky roof. Make sure to inspect your roof regularly for any signs of wear or tear. If you require expert assistance, look for a dependable Georgia roofing company that can offer you the services required to keep your house protected from the extremes.
Maintain the best possible condition for your gutters.
It's critical that you monitor and maintain your gutter system since it directs precipitation from your roof to the ground in a way that avoids pooling, flooding, and property damage.
Clogged gutters can cause water to back up and pool on your roof, creating an ideal environment for moss and algae build-up. Clean out your gutters regularly and make sure they are free of debris. If you don't feel comfortable or have the tools necessary to do this yourself, hire 1761 Renovations, a professional Georgia roofer who can take care of the job for you.
Don't forget about attic ventilation.
Attic ventilation is essential to maintaining the temperature and humidity levels in your home. Without proper ventilation, your roof will be exposed to extreme temperatures that can cause it to break down faster than normal. Make sure there are soffit vents installed along the edge of your roof and ridge vents along the peak of your roof. Check for any signs of damage before winter sets in to avoid expensive repairs later on.
Inspect your roof regularly to maintain its condition.
Don't overlook the significance of routine inspections, either. While some repairs can be handled without professional help, many require the expertise of an experienced roofer. A roofing professional from Atlanta Georgia can spot any issues and make sure that your roof is in good condition.You can maintain your home's safety and security all year long with their assistance.
You may also need to replace missing or damaged shingles, install an ice and water shield, or have a professional inspect for any other signs of damage. Roofing in Atlanta Georgia requires specialized knowledge and skill due to the climate and weather changes that occur in this area. Be sure to hire a qualified contractor who is experienced with the type of roof you own.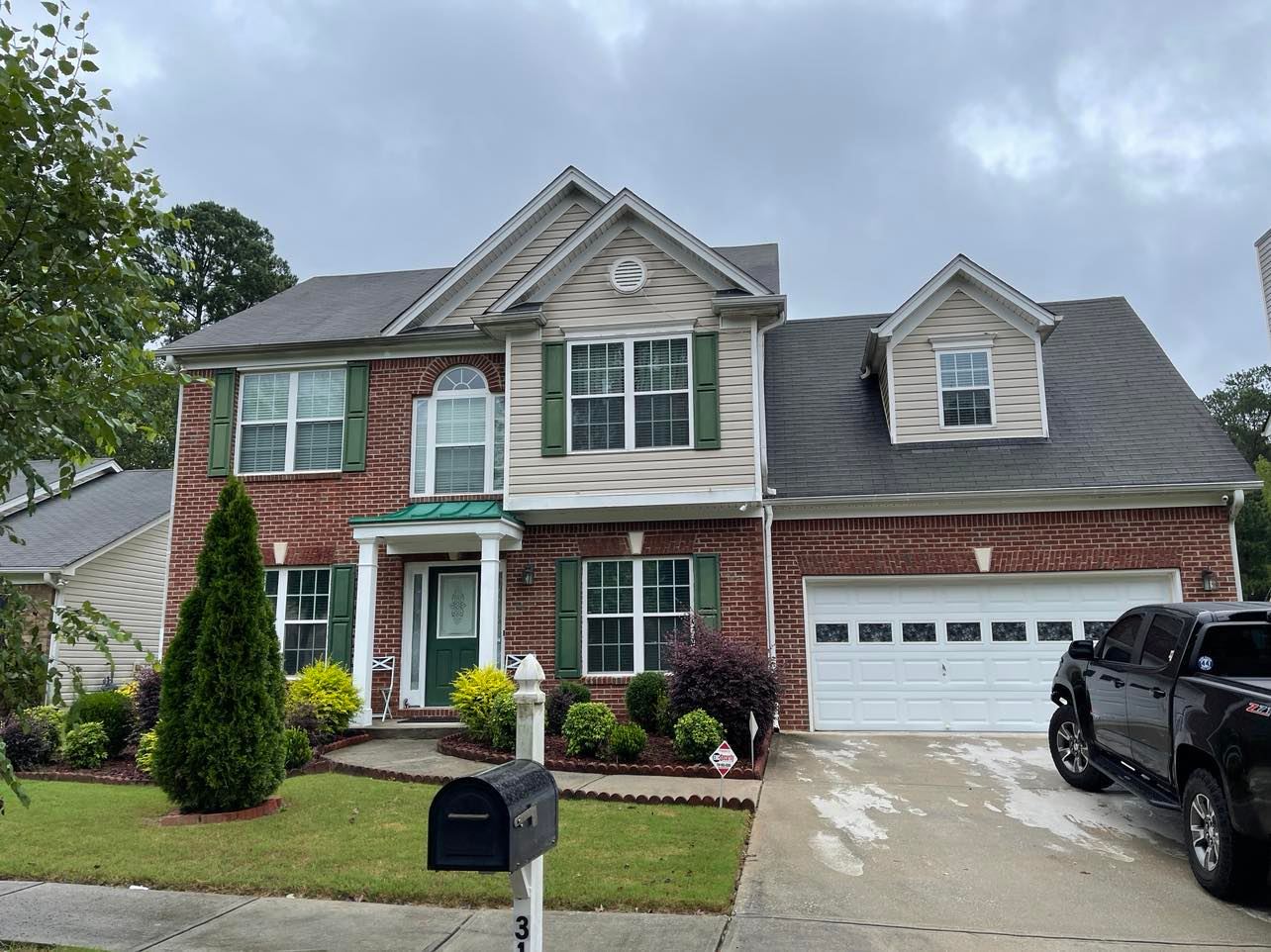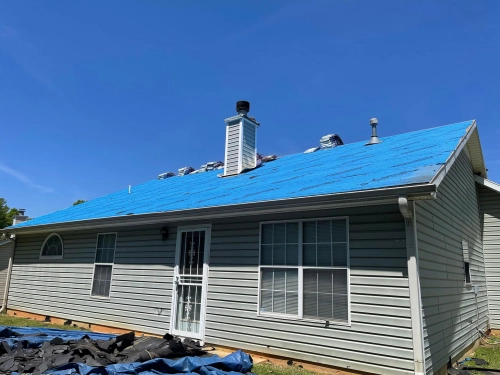 How roof insurance claims works.
If you've experienced damage to your roof due to a storm or other event, it's important to understand how roof insurance claims work. In most cases, the insurance company will cover the cost of repairs and materials, but there are certain criteria that must be met in order for them to do so. Some things they may consider include the age of the roof, any existing damage prior to the storm, and if proper maintenance was taken. In some cases, you may have to pay a deductible before the insurance company covers the cost.
When searching for a roofing contractor in Atlanta Georgia, make sure you do your research. It's important to find a reputable contractor who has experience working with roof insurance claims. They should be able to provide references and a portfolio of their past projects, so you can be sure they have the necessary skills and knowledge to complete your roof repairs. Roofing in Georgia requires that all contractors are licensed and insured, so make sure you ask for proof of these credentials before hiring them.
The insurance company will review the claim, after which they will provide an estimate of the cost to repair or replace your roof. Your contractor should also be able to provide an estimate of the costs, so you have an accurate understanding of what needs to be done and how much it will cost. Georgia roofing laws require that all roofs must meet certain standards in terms of wind resistance, durability, and energy efficiency, so make sure your contractor is familiar with these regulations.
Benefits of A New Roof.
The installation of a new roof by 1761 Renovations has a lot of advantages. In a very handy, quick, and easy process, our skilled roofing contractors replace old roofs on homes for very affordable prices.
One of the most crucial components of a house is its roof. It aids in shielding the interior from the elements, including the cold, mud, snow, rain, and wind. Since it is a significant component of the outside, it also improves the appearance of the house. New roofs aid in preventing health risks and maintaining heat within the home. Additionally, it raises the value of the house, makes it safer, and benefits the environment.
Mold, germs, and other health risks may be present in older roofing and roof shingles. The entire home's air was tainted as a result. The likelihood of the occupants developing allergies and respiratory illnesses is significant. They may result in high medical expenses and lost time spent in hospitals and doctor's offices. In addition, if no medical attention is given, it may result in major health issues.
In many cases, aging roofs let heat escape. Due to this, it is more difficult to keep a home warm during the winter months, and the cost of heating, gas, or electricity increases. It is comparable to a person in cold weather who opts not to wear a hat to keep warm. Newer roofing is more environmentally friendly and energy efficient. The environment does benefit when less energy is required to heat or cool a home.
Why you need 1761 Renovations Georgia Roofing Company.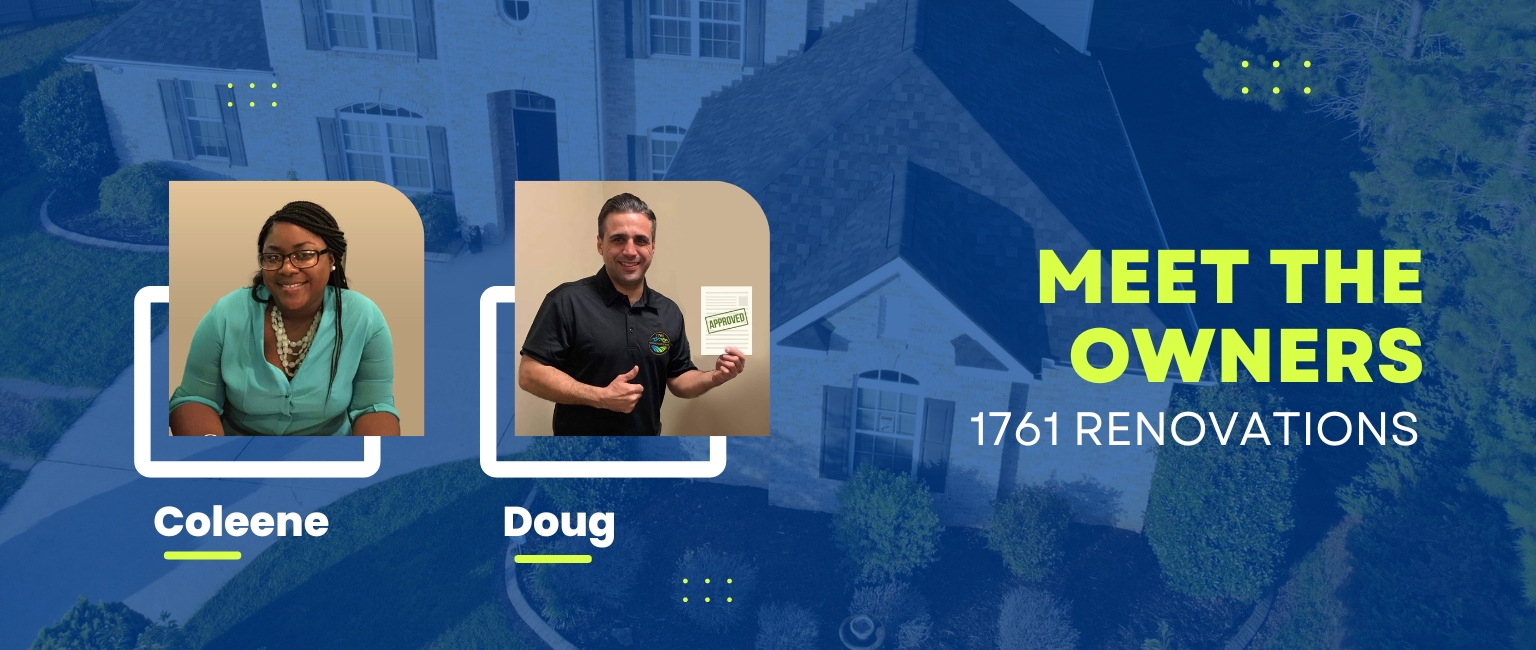 The right professional will ensure that your roof installation goes off without a hitch. A big project like installing new roofs can be stressful and daunting, which is why it's important to find someone experienced in such matters who has the knowledge of what they are doing.
When carrying out roofing operations, it is important to use high-quality materials that are appropriate for the job. This is where 1761 Renovations Georgia Roofing Company comes in; we can give you the greatest guidance when it comes to installing your new roof because we have a lengthy experience of successful roofing jobs.
At 1761 Renovations Georgia Roofing Company, we have the experience and resources to ensure your roofing project is completed on schedule and within budget. Our team of experts is highly trained in all aspects of roof installation and can help you determine what's best for your individual needs. We take pride in ensuring that every job is done to the highest standards and that customer satisfaction is always met. We understand the importance of having a reliable roof, and our experienced team is here to help you make sure your roofs are installed correctly and safely.
Not only do we have experience in installing new roofs, but also in fixing existing roofs as well as carrying out maintenance services for both residential and commercial buildings in Atlanta Georgia.